SAFE TRAVELS HIGH SCHOOL TEAM!
We are thrilled that 25 of our high school kiddos and some of their teachers are headed to Puerto Rico for their Capstone Trip beginning this weekend! We cannot wait to hear about all of their travel adventures!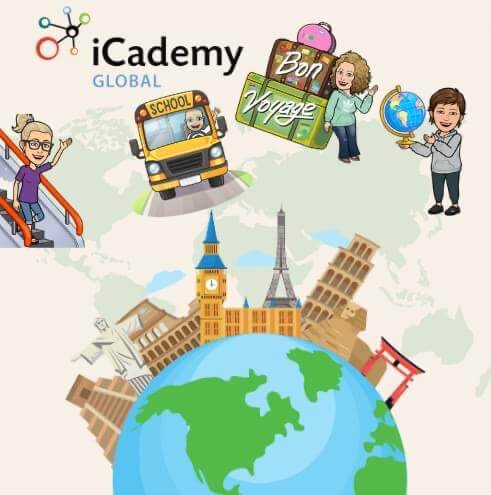 Fun at the ODC!
Thank you to everyone who was able to make it to the Outdoor Discovery Center last night for some nature fun! Great seeing all of our families enjoy all that the ODC has to offer! Thanks, also to the Family Engagement SR for planning and the ODC for hosting us!
NEW INFORMATION
FIELD DAY VOLUNTEERS NEEDED – MAY 25TH
We are thrilled to be hosting a one-day fun-filled field event for our students at both Innocademy and iCademy Global. We are in need of LOTS of volunteers for the afternoon! If you are available, please CLICK ON THIS LINK.
Our Y5 – 5th-grade students will be participating, and MS/HS students will volunteer to run a station.
The goal of Field Day this year is to: synergize two of our IES schools, align with our global mindset initiative, to get our students out into their community, and give our oldest students a stewardship opportunity.
Date: Thursday, May 25, 2023
Time: 12pm-3:25pm (with pick-up at Helder Park)
Location: Helder Park, Zeeland
CALLING ALL MIDDLE/HIGH SCHOOL STUDENTS
☀️FIELD DAY STEWARDSHIP OPPORTUNITY☀️
Do you enjoy being outdoors? Do you want to give back to your school? Do you need to add some volunteering to your resume/college applications?
Field Day is almost a month away, and we need your help!
Date: Thursday, May 25, 2023
Time: 11:30am-3:25pm
Location: Helder Park, Zeeland
Sport knowledge is not required. All you need is a friendly face, and a willingness to serve others!
Sign-Up to volunteer HERE! by May 5th!
MAY IS MENTAL HEALTH AWARENESS MONTH
HOT LUNCH MENU CHANGE FOR FIELD DAY – MAY 25TH
The new menu for May 25 is an Italian sub, veggie, fruit, chips, and rice krispie treat. There will be no 2nd choice option that day.
OUTDOOR DISCOVERY CENTER FREE BOOKS!
OLD INFORMATION
MAY LUNCH MENU
https://icademyglobal.org/wp-content/uploads/2023/04/HC_Inno_May_2023_menu-2.pdf
MARK YOUR CALENDARS – END OF YEAR PE & FIELD TRIP FUN!
May 6th – Tulip Time 5K (K-12th grades)
June 8th – Sports Fun – Location TBD (K-12th grades)
2023 – 2024 iCADEMY SCHOOL CALENDAR
https://innocademy.com/wp-content/uploads/2023/03/ICAD-2324-FINAL-FAMILY-CALENDAR.pdf
2024 – 2025 iCADEMY SCHOOL CALENDAR
https://innocademy.com/wp-content/uploads/2023/03/2425-ICAD-FAMILY-CALENDAR-FINAL.pdf
FAMILY REFERRAL PROGRAM FOR '23 – '24 SCHOOL YEAR – IT'S BACK!!!
Enrollment for new families s NOW OPEN for the '23 – '24 School Year! Thank you for the amazing stories you share with family and friends – this is how so many awesome families end up enrolling with us! Please keep sending folks our way – we'd love to talk with them about our family of great schools!
REMINDER – NEED TECHNOLOGY HELP? PLEASE FOLLOW THE STEPS, BELOW
Please note…if you work through the problem with Vector Tech Group and they request that you return your computer to campus for a technology exchange, please connect with Robyn.parks@icademyglobal.org, directly, to make an appointment or to work with her regarding shipping.
REMINDER: HOMESTEAD CAMPUS IS NUT FREE
We have students on campus who have severe allergies to nuts of any kind. Please use extra caution when packing snacks, bringing treats to school, and enjoying lunches so that we can keep all of our students safe.
ARE YOU FOLLOWING US ON SOCIAL MEDIA?
We've enjoyed celebrating our K5 students this month and coming up next we have Middle and High school students spotlights 🙂 Don't miss out, check us out on Facebook or Instagram!
https://www.facebook.com/icademyvirtual
https://www.instagram.com/icademyvirtual/
And don't forget to join us in our iCademy Parents group on Facebook!
https://icademyglobal.org/wp-content/uploads/2022/09/HC_Inno_Oct_2022_menu_FNL.pdf
This is the first Fall Open House in several years, and there is no better way than to attend the Open House to get a feel for if CTC is a good fit for you!
ARRIVAL/DISMISSAL IF YOU VISIT CAMPUS
Just a reminder that, if you are visiting campus for Re:FUEL or Blended Learning, please adhere to the "ONE WAY" traffic moving to the right immediately upon entering the East (Taco Bell =) parking lot. Need a refresher? Here's a short VIDEO to help!
NEED TO CONNECT WITH YOUR TEACHER/MENTOR?
Please remember that teachers and mentors are excited to help answer questions each school day. Please, please, please always use zoom to reach out to them instead of email. They do not want to miss your message!
ICADEMY FAMILY CALENDAR 22/23 SCHOOL YEAR