CONGRATULATIONS TO OUR 8TH GRADE AND HIGH SCHOOL GRADUATES!
FUN AT THE ZOO!
Thanks to all of our families who were able to make it the John Ball Zoo Synergy Session, yesterday! So hot, but so fun! We even spied our iCademy Valedictorian, Teyah, working at the Camel Ride Booth! And there was a mythical, magical unicorn sighting! =)
NEW INFORMATION
BREAKFAST/LUNCH SIGN UP/PICK UP – JUNE 18th
Students at iCademy Global are able to receive 5 days worth of breakfasts/lunches.
Please note that the orders must be placed no later than MONDAYS BY NOON.
Pick up time has also changed to be on FRIDAY FROM 11-11:15AM.
THIS SIGN UP is open for next week's breakfast/lunches for our families with students who are virtual learners. 5 days of lunches and breakfasts available for each kiddo 18 and under.
Deadline for sign-up are MONDAYS AT NOON. Late responses cannot be accepted.
Pick up will be at iCademy on FRIDAY from 11:00 – 11:15am
Please contact Ms. Stacy at hot.lunch@innocademy.com with questions.
OLD INFORMATION (In Case You Missed It =)
REMINDER…END OF SEMESTER
All 2nd semester coursework must be completed by 11:59pm on Thursday, June 17th.
DEVICE RETURN
Please plan on popping by on Friday, June 18th. Choose 11am – 1pm or 5pm – 7pm. If your family will be unable to make it, please contact leisa.lobbezoo@icademyglobal.org, asap, to arrange an alternate time for drop off.
SUMMER SCHOOL FOR HIGH SCHOOL STUDENTS
iCADEMY FAMILY CALENDAR FOR 21-22 SCHOOL YEAR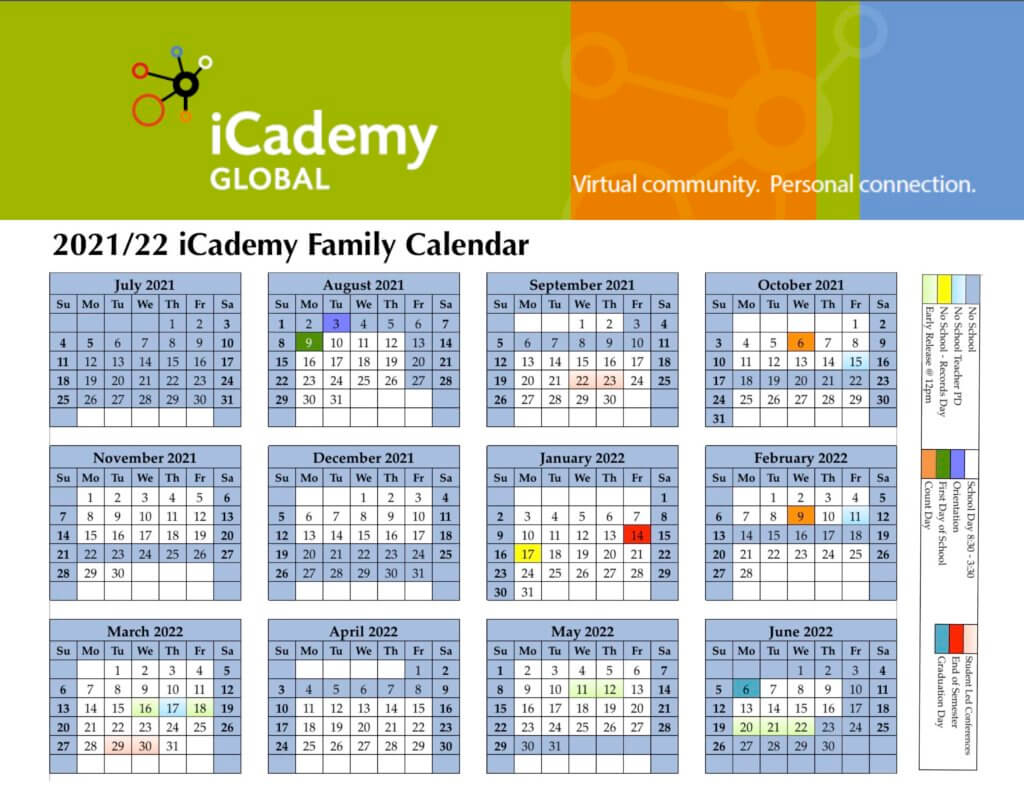 Please take note of the important dates, below:
June 17th – End of Semester – All coursework due by 11:59pm
June 18th – Device Return Day – Choose to return your device between 11am – 1pm or 5pm – 7pm.